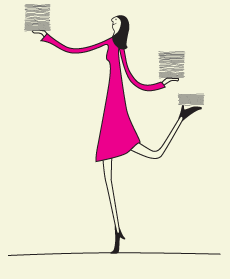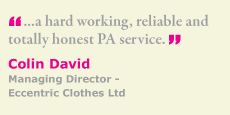 SERVICES
An experienced Personal Assistant and Office Manager provides support for all aspects of your business with the assurance of complete confidentiality, giving you peace of mind in the knowledge that your business is presenting a completely professional image.
Business administration and client liaison includes:
Dealing with phone and email enquiries
Travel and diary management
Organising events, workshops, conferences, parties
Internet research
Database creation and management
PowerPoint and Publisher documentation
Creating letters, questionnaires, forms

Copy and audio typing
Excel spreadsheets and databases
Report and contract typing
Transcriptions, dissertations and CVs
Mail merging and address labelling
Translations
Bookkeeping services
Editing, ghost-writing, proof-reading
Copywriting for ads, web sites, sales letters, speeches
In addition
to all of the above, we have a comprehensive professional network and can provide whatever service or product your business might need.


And finally
because of the way our business is structured and the professional network of which we are a part, we are able to take on one-off bigger projects at any time. We are also able to assure you that there will always be one of the team available to do your work whenever you need it.